Scheduling Posts on Facebook
Scheduling and boosting Facebook posts is easy once you know the ins and outs. We've put together this quick overview for you to follow.
You can create scheduled posts both from your Page's timeline, and from Facebook's Publishing Tools section.  We'll look at both techniques to create scheduled posts.
Begin by creating a regular post from your timeline: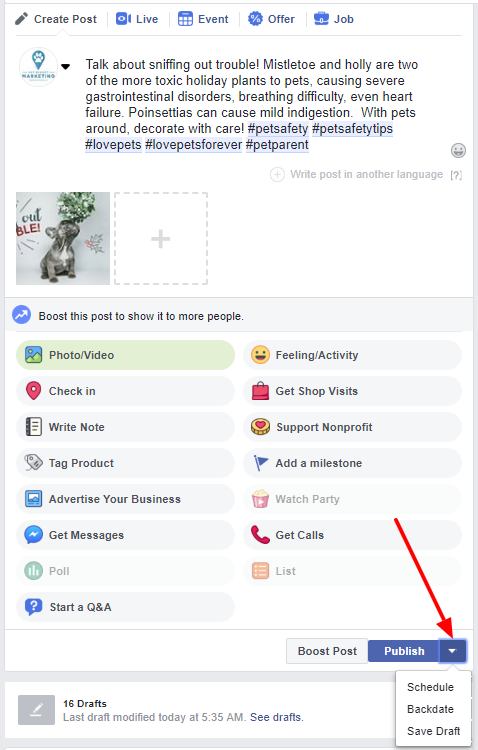 When your post is complete, select the down-arrow next to the Publish button below the post.  Then select Schedule.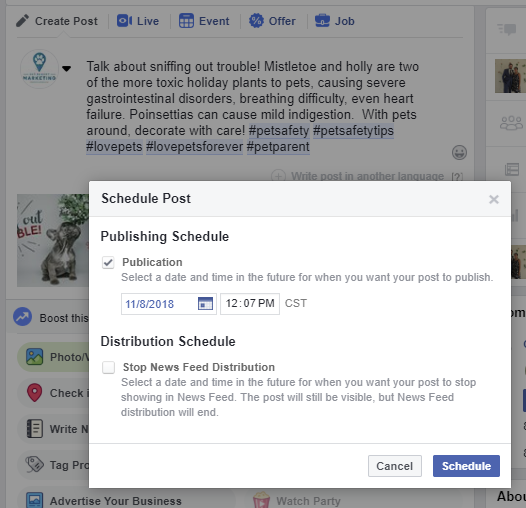 From the scheduling controls, choose a future time to publish the post.  It will automatically appear at this time on your newsfeed.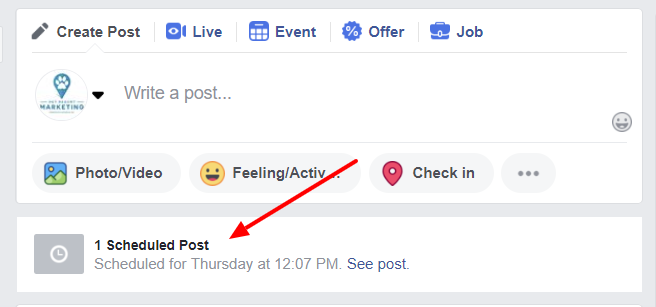 Once syou've scheduled all of your posts, you will see the total number appear at the top of your newsfeed.  Click on this box to bring up the Publishing Tools screen.

You can now also see and manage all of your scheduled posts from your publishing tools window.
Boosting a Scheduled Facebook Post
You can also boost a scheduled post from your Publishing Tools controls.  Click on one of your scheduled posts to boost it.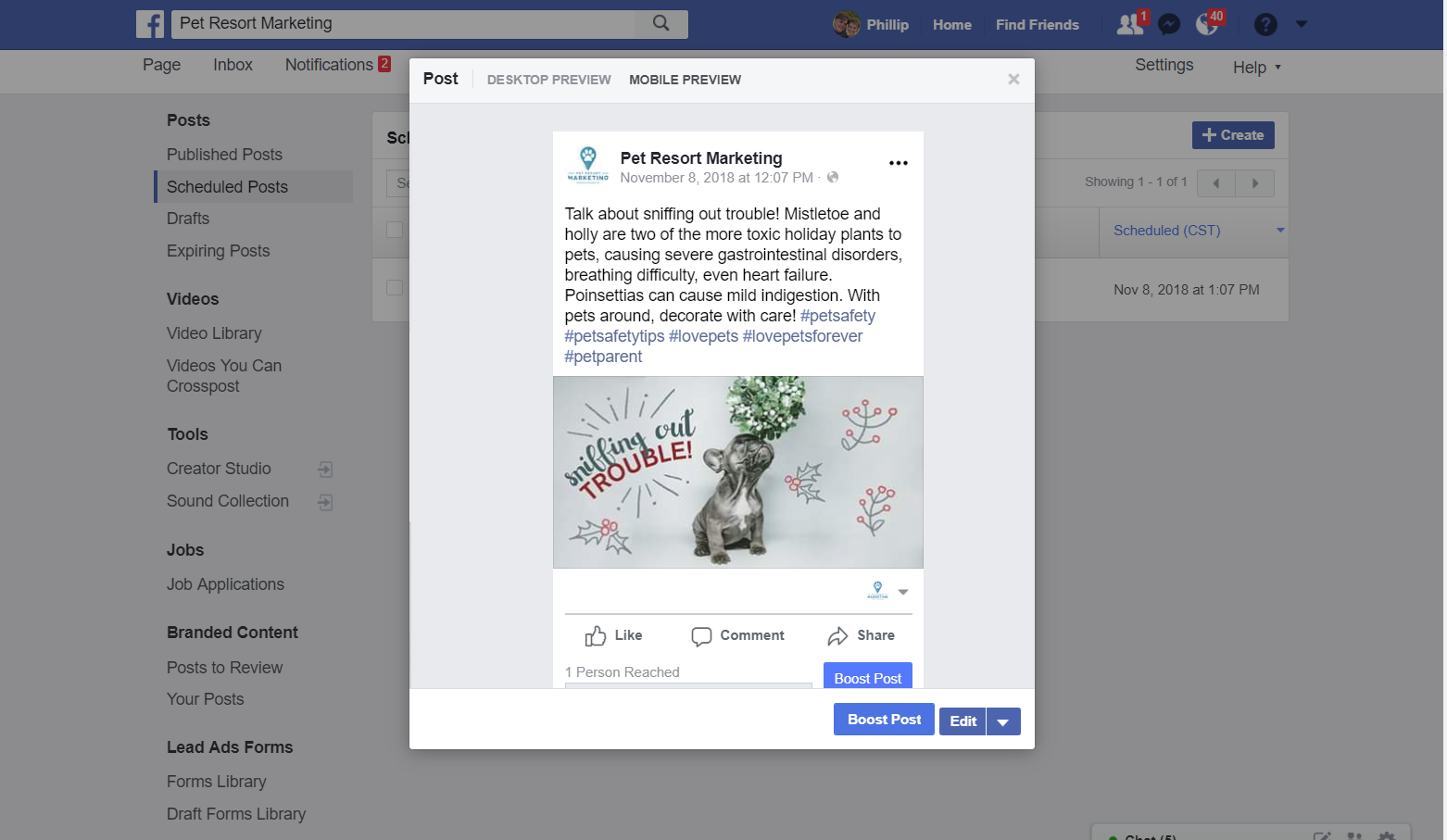 Select the Boost Post button.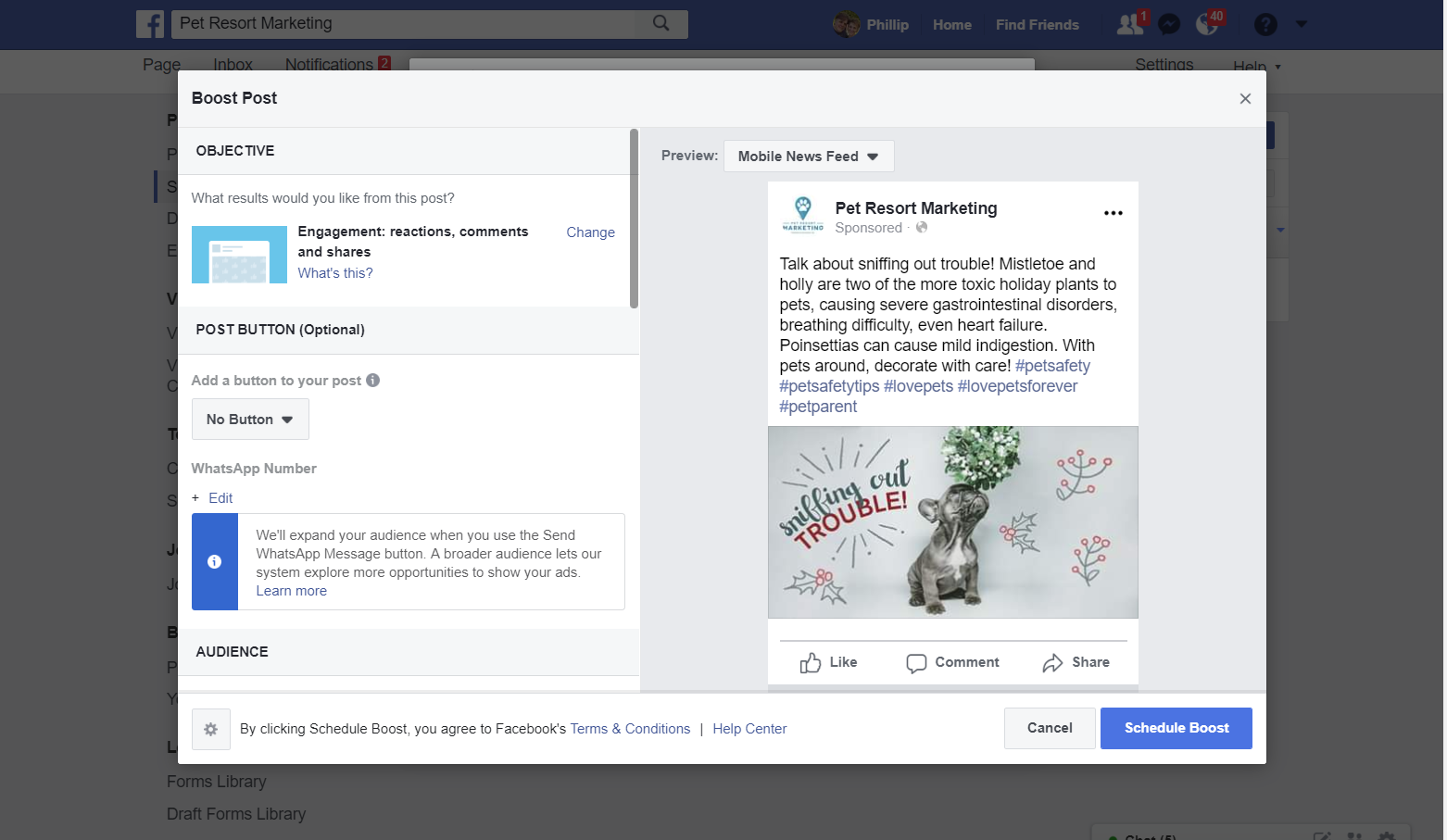 You now have multiple targeting options available for it.  In most cases, the default Engagement setting is the best choice.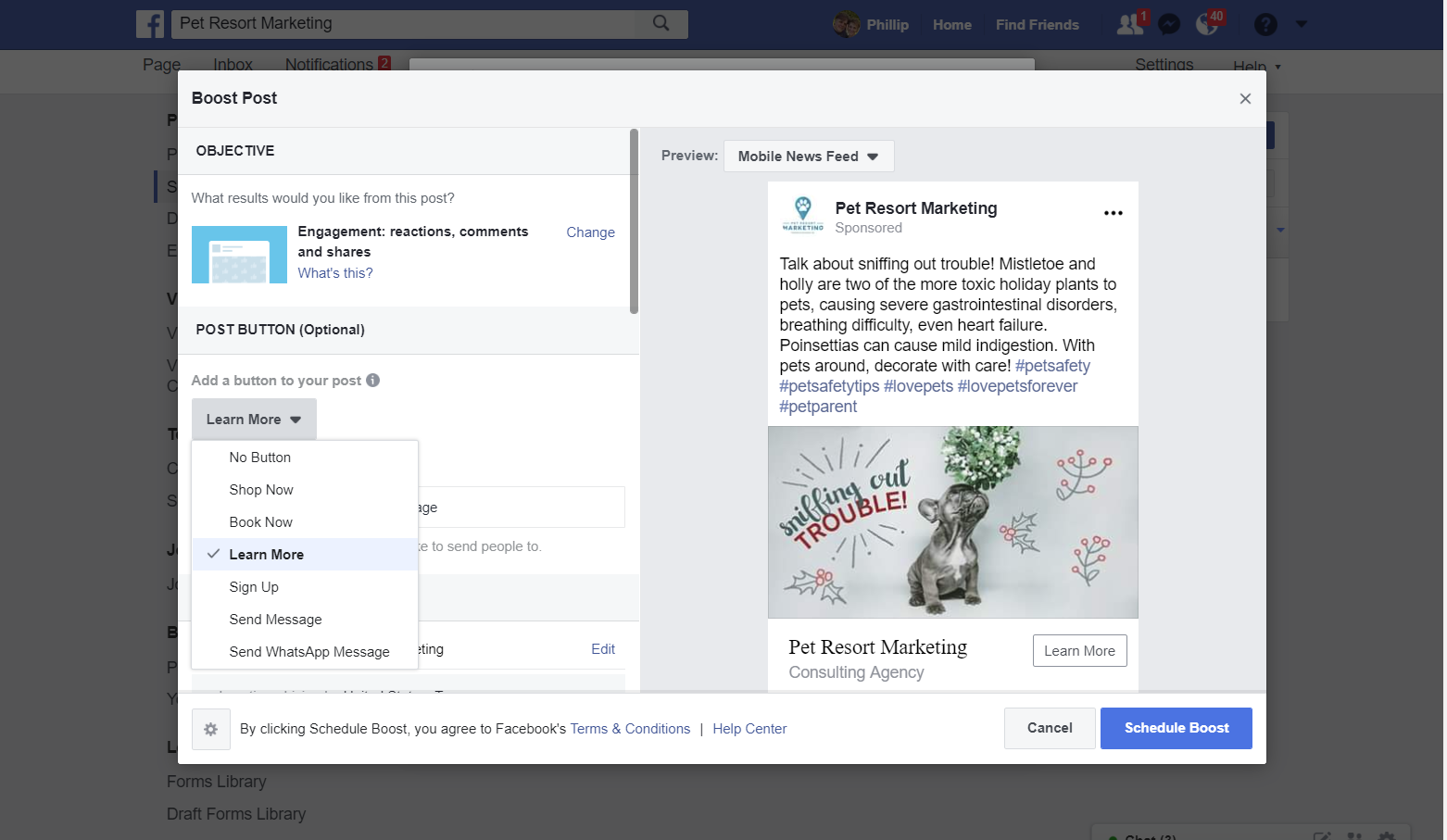 Creating a Call-To-Action
You have the option of to create a Call-To-Action button at this point.  If your post links to related content or a supporting offer on your website, you may add a link here.  However, if your post is informational, your goal is to have it shared, commented on, and liked within the news feed.  Unless you have closely-related content on your site that you can link to, you'll get a greater return if you do not include a Call-To-Action.  You can create other ads and offers targeting visitors who've engaged with your posts and/or liked your page.
Defining Demographic Targeting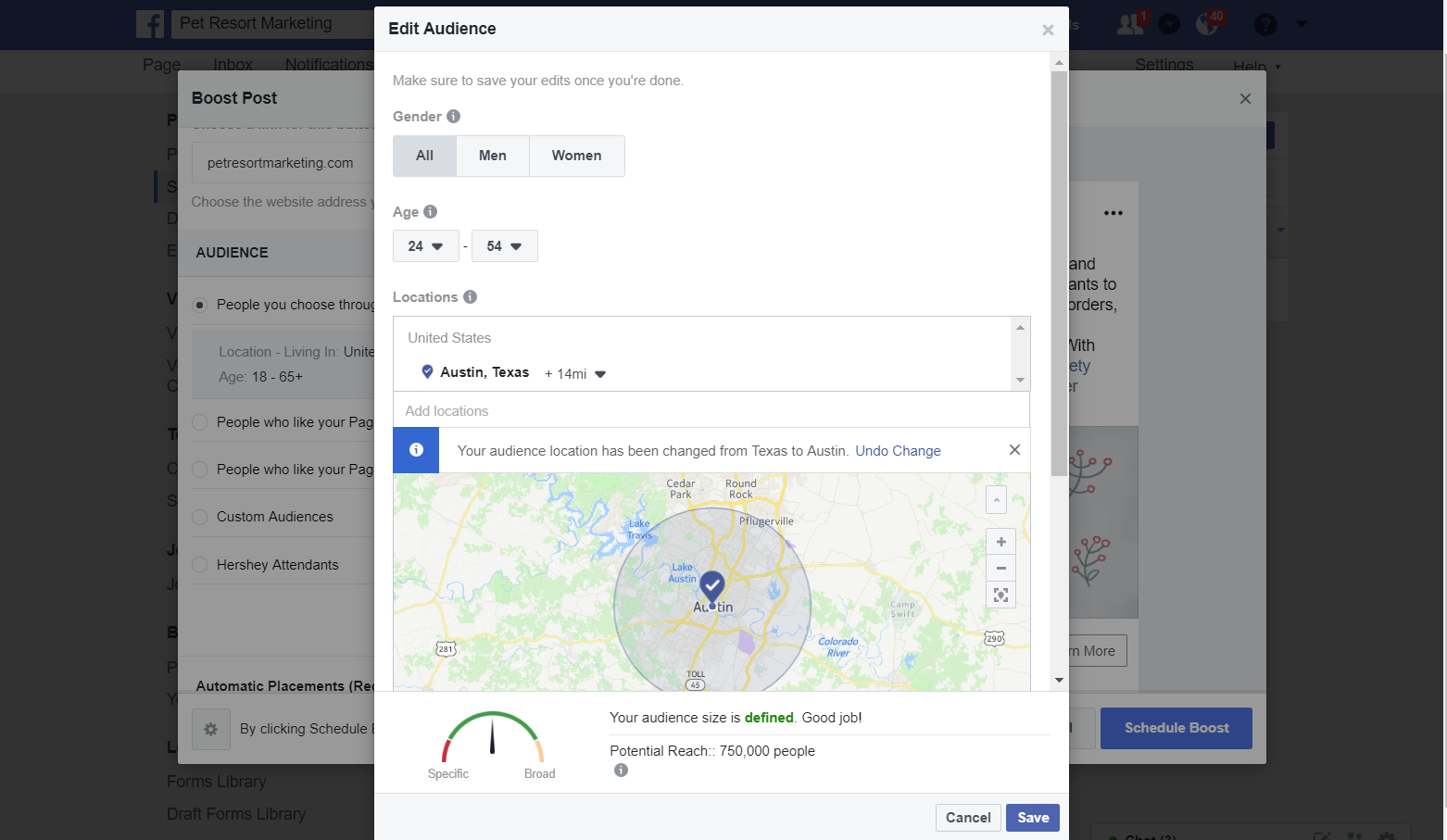 For most cases, defaulting to a 10-20-mile radius is fine.  Enter the address of your business or choose the local metro area for targeting.  Adjust the age range to include your typical customer range—we recommend starting at age 24.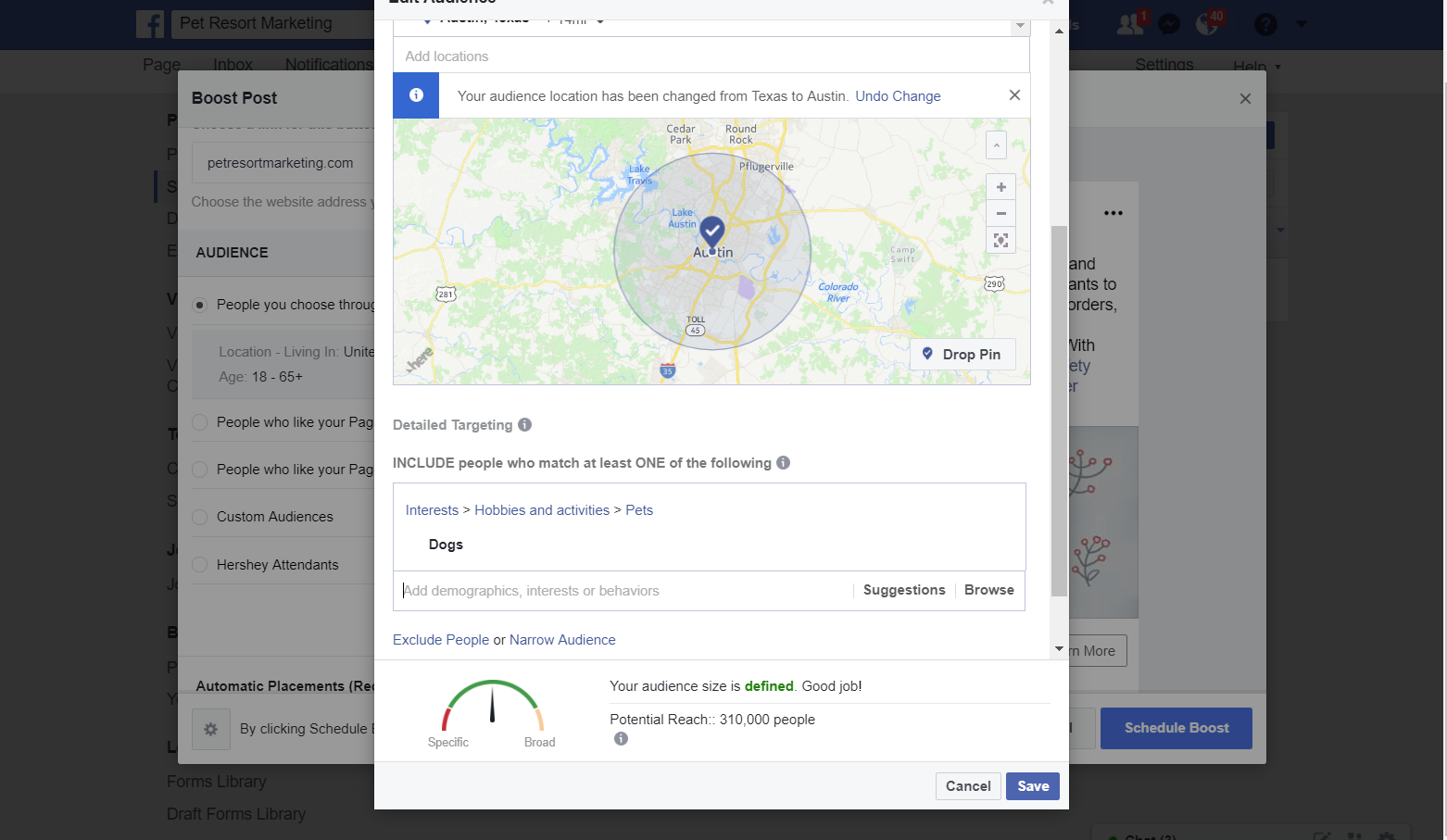 Next, add some specific interest targeting.  At the broadest level, include everyone interested in Dogs, Cats, or Pets.  Additional targeting could be used to limit your audience to those Facebook users most closely matching your customers.  However, it is important not to make your audience for informational posts too narrow.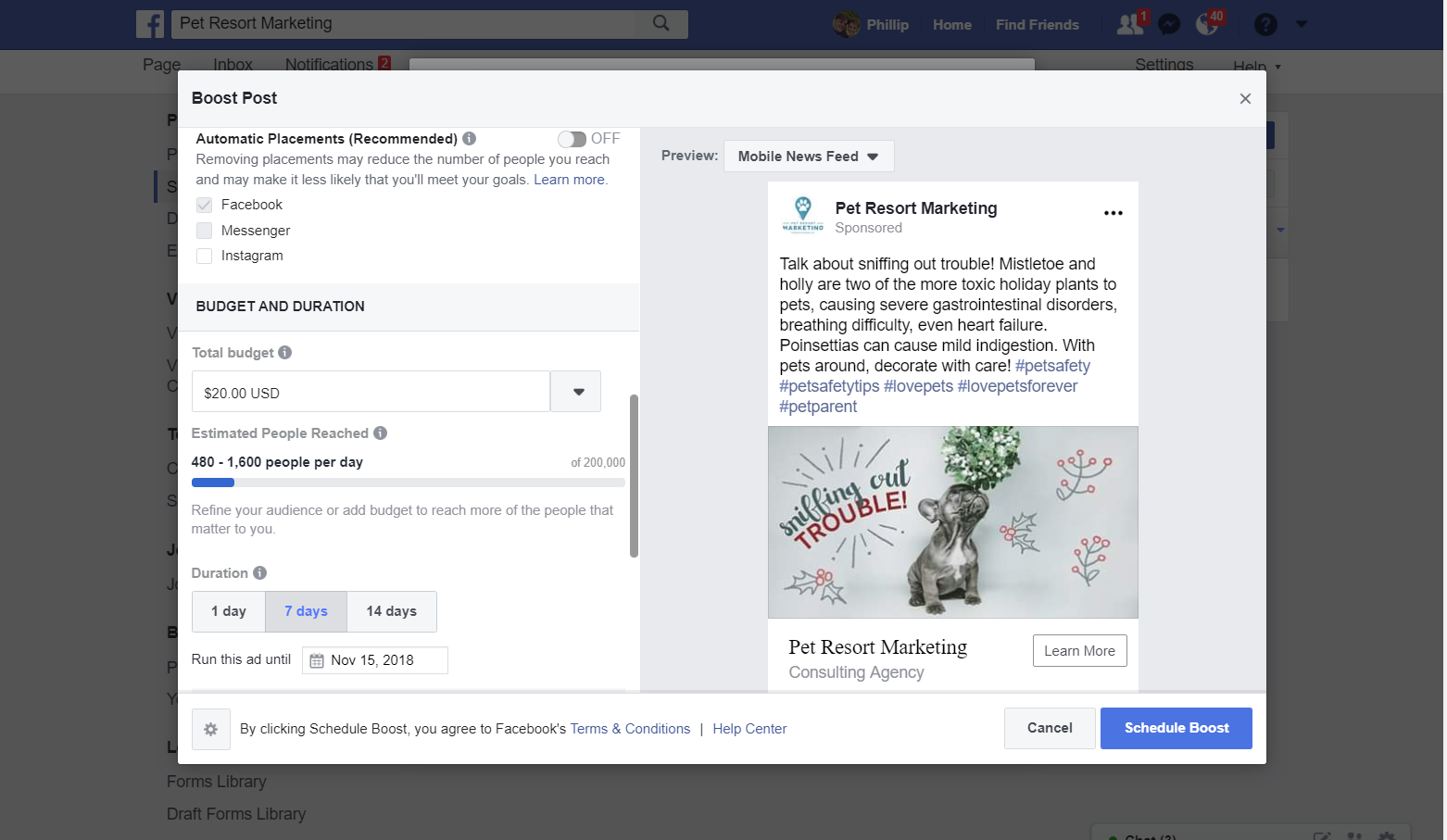 When you boost a post, Facebook automatically makes the post available to mobile, desktop and Instagram users.  If you create an additional Instragram post of the same content, disable Instagram targeting here by turning Automatic Placement off and targeting only Facebook.  Finally, set your budget and post duration.
When done, click on Schedule Boost.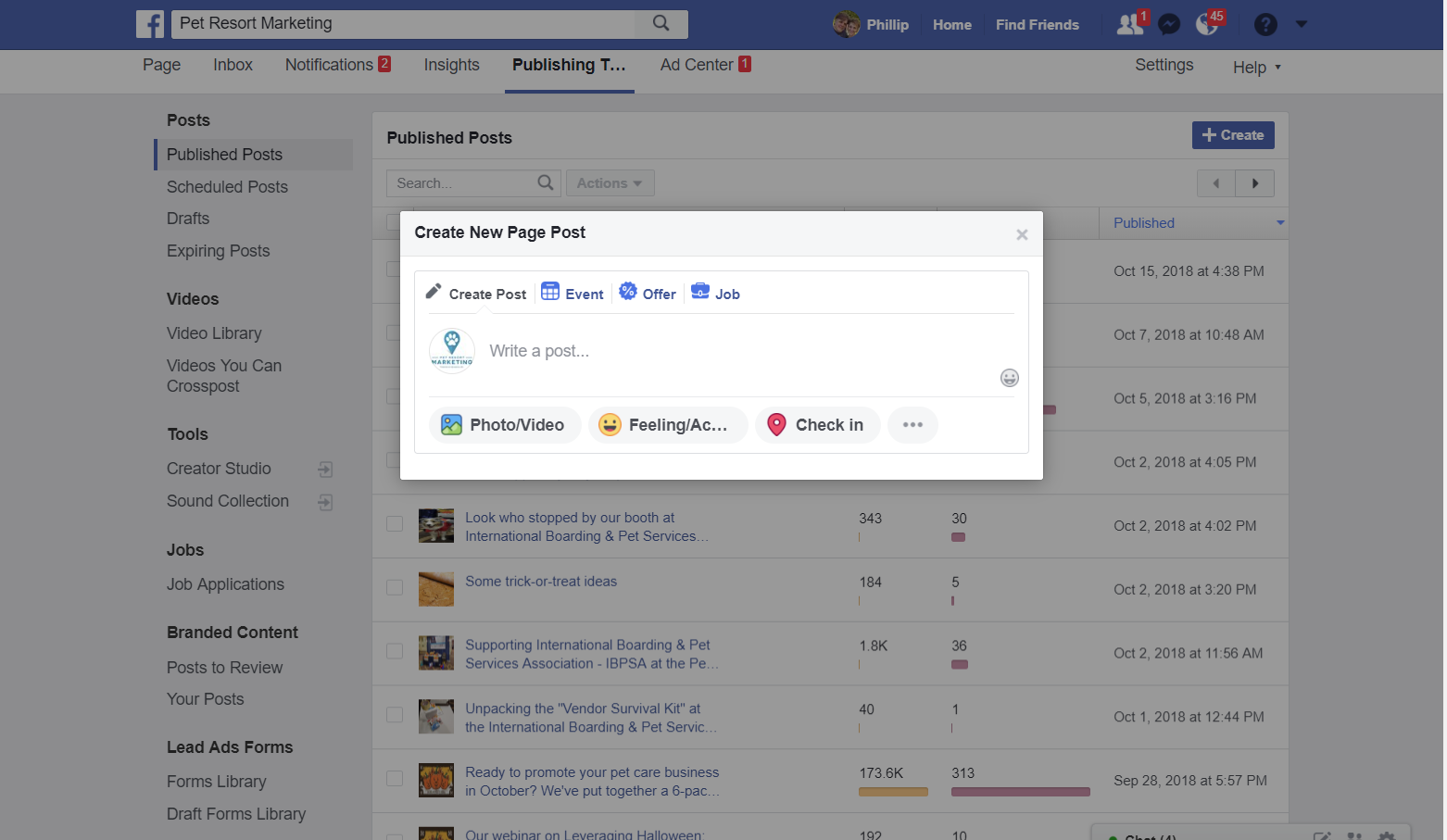 If you choose, you can create a large number of scheduled posts directly from the Publishing Tools section.  To monitor your performance, click on the Ad Center menu link and review the performance of your boosted posts.
Boosting an Instagram Post
While scheduling is not available within Instagram, you can boost your Instagram posts independently from within the app.
Note: You should connect your Instagram business account and Facebook Page prior to promoting any Instagram posts: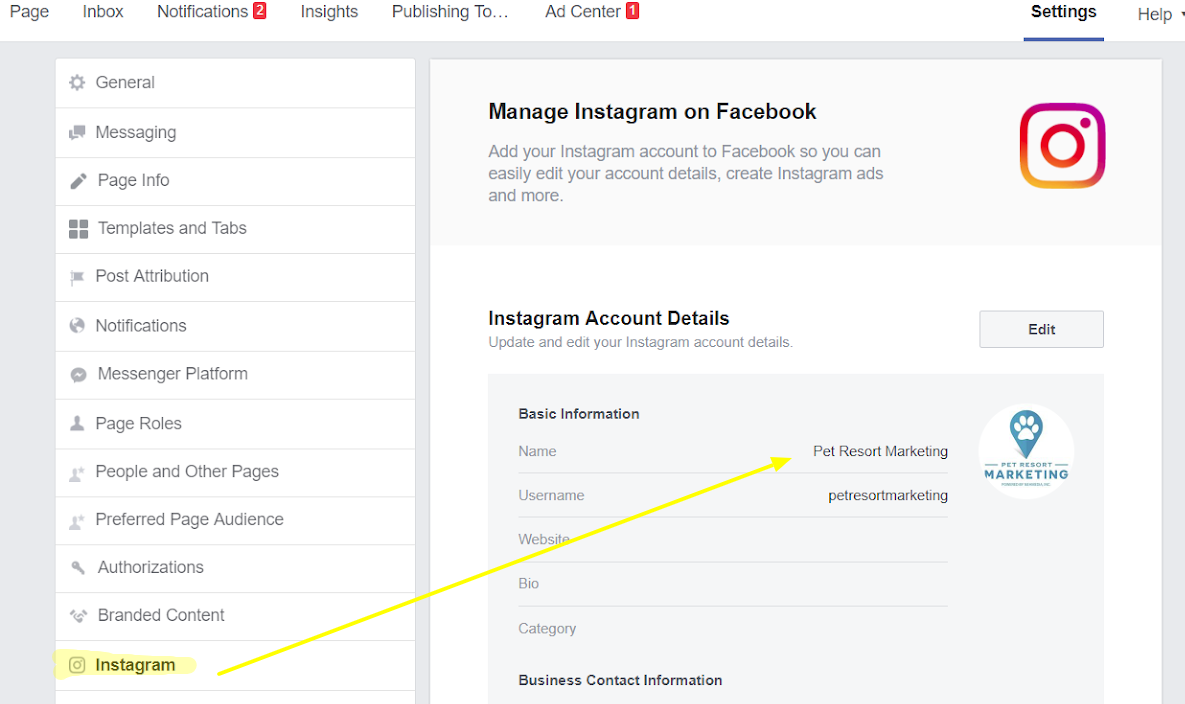 Account Configuration Screens
Depending on previous boosts, advertising, and configuration, you may see one or more of these screens when you begin the boosting process.  It is important that you connect your Instagram account to both your Facebook Page and to a connected Facebook Ads account.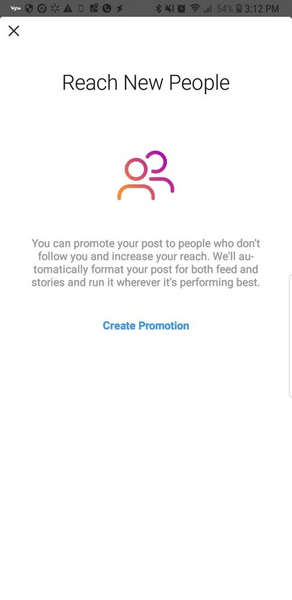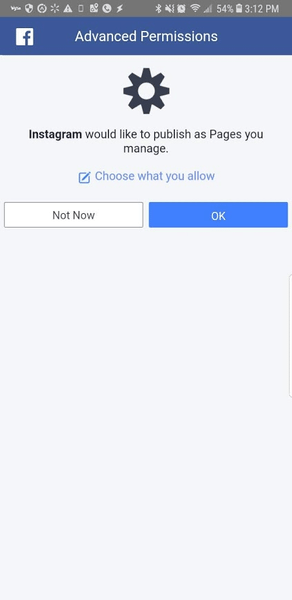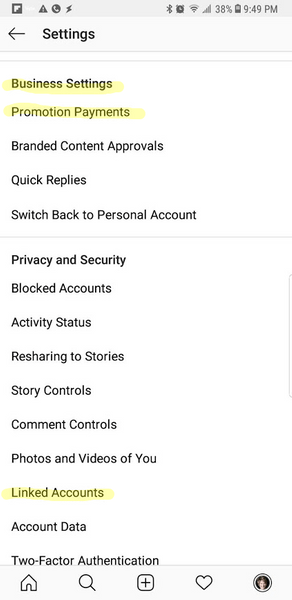 Setting Up Your Instagram Boost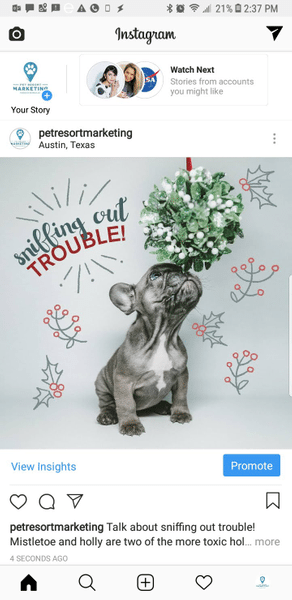 If you've completed the setup for paid promotion, a Promote button will be available after you complete your Instagram post.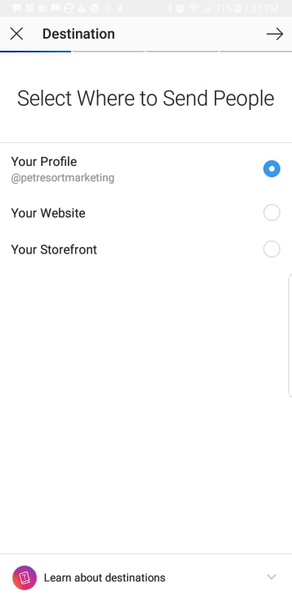 Promoted posts can direct users to your profile, your website, or your business location.  For informational posts, send people to your profile.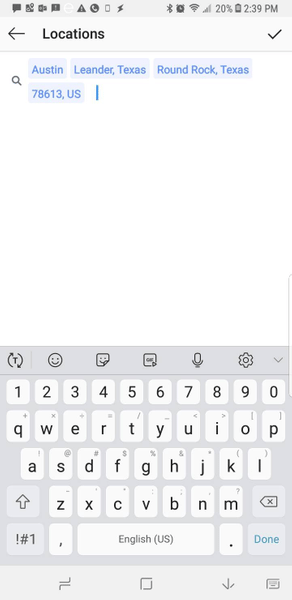 Target your posts to locations within your area.  You can target states, cities, or even individual zip codes.  Make sure you've also used these locations as additional hashtags on your post.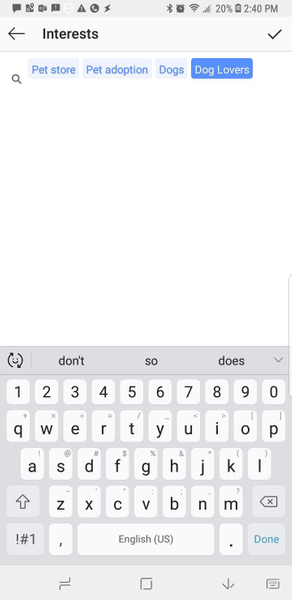 You can select interest categories similar to those available in Facebook.  Select categories that mirror your main hashtags as well as interest categories related to your content.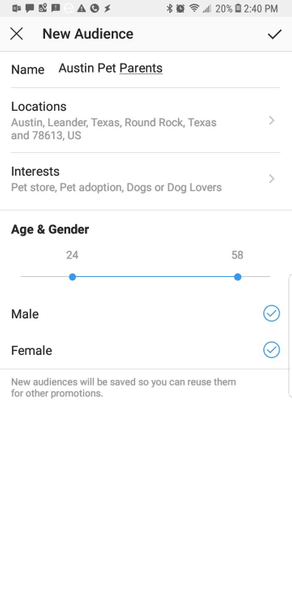 Finally, set demographic limits for age and gender.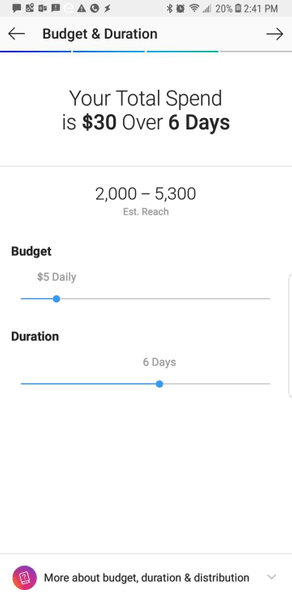 Set target and duration.  A good range to start with should be a target reach between 2,000 and 6,000 users.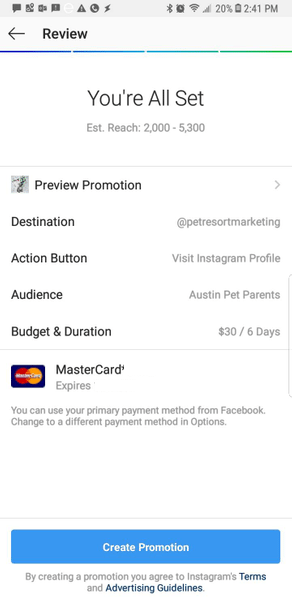 Verify the settings, the payment source, and start your promotion!