Town and Country Pet Care Center
How a Pet Resort went from Surviving to Thriving in 18 Months
Town and Country Pet Care Center, based in Langhorne, PA had been providing pet boarding, grooming, training, and daycare services to pet parents in their community for 50 years. Business was steady with the usual peaks during the holidays. But longtime owner Liz Carpino realized that if they wanted to increase business and grow, they couldn't continue doing the same thing year after year. So Carpino asked a few people in the pet resort industry for advice. What she learned, and ended up doing, put her business on an upward trajectory for years to come.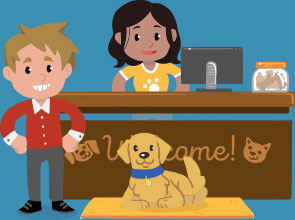 As soon as we signed up with Nehmedia, our daycare and boarding business exploded!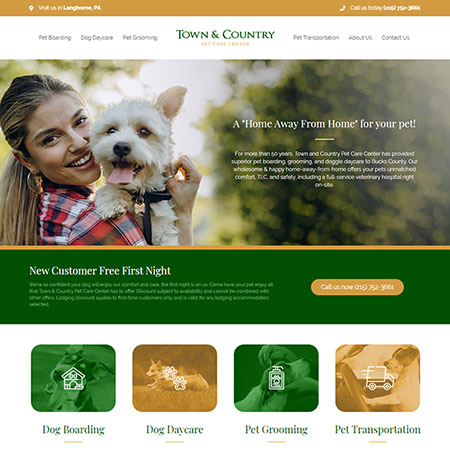 Partnering with the Right Marketing Firm
Carpino recognized that her pet resort website was old and outdated; after all, it was developed by a friend of the family many years earlier. "The problem with our first website was that it was similar to a little slide show of pet photos, and it didn't attract new customers," she said.
Essentially, Town and Country's original website was focused more on appearance than performance. Carpino's fellow pet resort industry colleagues advised her to partner with a digital marketing firm that specialized in helping pet resorts grow. That's when Carpino turned to the Pet Resort Marketing team at Nehmedia, Inc.
Carpino hired Nehmedia to design and develop a new website that could help generate new business. "As soon as we signed up with Nehmedia, our daycare and boarding business exploded," she said. Nehmedia created a new website for Town and Country with built-in signals for Google so the pet resort would receive top visibility in Google searches among pet parents in the surrounding areas. Experienced in providing digital marketing services to pet resorts since 2012, Nehmedia understands the language of pet resorts and pet parents alike. "They knew the right words to use on our website, and which keywords would help us get found better on the Internet," Carpino said, adding, "Nehmedia is in a league of their own."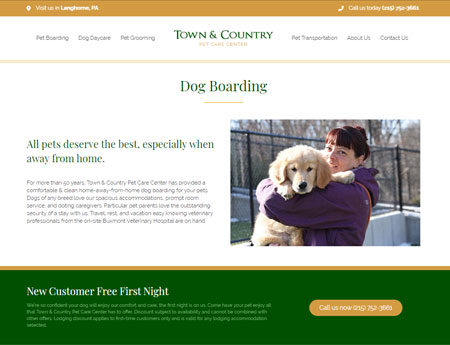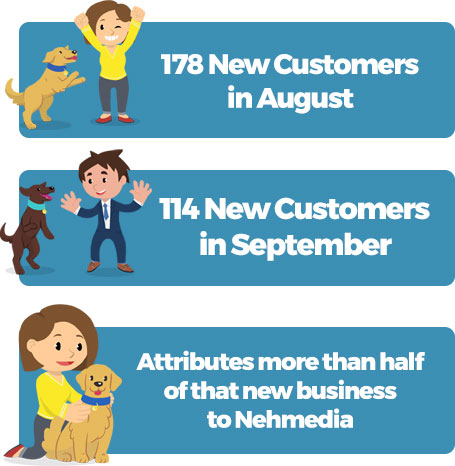 In addition to benefitting from the extended visibility of her new website, Carpino said that a "first night free" promotion on the website itself helped drive a lot of new business. In August, the pet resort's busiest month, Town and Country acquired 178 new customers; in September, 114 new customers. Carpino attributes more than half of that new business to Nehmedia's website and digital promotion advice.
Moreover, the promotion enabled Carpino to discover where most of her callers were coming from, and which audiences she was missing. "Our kennel is in a suburb of Philadelphia. What blew me away was how many new clients we were attracting from Philly," Carpino said. "I had no idea so many of our clients were coming from Philly so I was able to identify and market to other areas where we weren't getting a lot of people," she said.
With her new high-performance website and increase in new customers, Carpino says she has had to hire more people to keep up with the demand, and she couldn't be happier. "Our revenue is up 70 percent in the past 18 months alone since working with Nehmedia," she said. In fact, during a recent budget planning meeting for the coming year, she and her team were determined not to touch the line item for their monthly investment in Nehmedia. According to Carpino, future projections for the business look "fabulous" and she couldn't be happier. "I trusted Nehmedia," she said, "and everything has worked out very well for us. For fifty years we were surviving. Now we're thriving!"