Rover Stay Over & Puget Hound
How a Pet Resort Grew by 20% and Expanded Their Business
Ten years ago, Charmae Scheffer was looking for a place to board her dogs when she had the idea of opening a boarding facility herself. "We had looked at many facilities in the area, but none offered what we were looking for, and we thought we could do it better," she said. So she and her husband began searching for land that could accommodate both their house and a boarding facility. In 2011 they found a place where dogs would feel right at home and opened Rover Stay Over Pet Resort. With help from a local public relations specialist, the built a Facebook page and used local advertising to get the word out. Their business grew steadily, primarily through those efforts and word-of-mouth. Then, in 2017, Scheffer made a key decision to attend a pet resort industry conference. There, she attended a presentation by the pet resort marketing team from Nehmedia, Inc., which specializes in digital marketing services for pet resorts. Scheffer said that conference and the new marketing ideas "blew our minds," and set them on a game-changing course.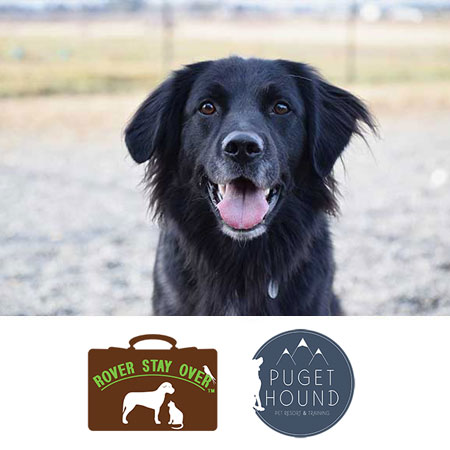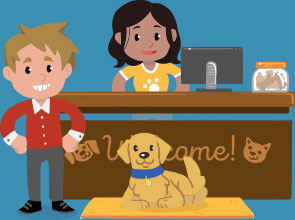 We signed up with Nehmedia, and suddenly we have knowledge from 40, 60, and more pet resorts all over the United States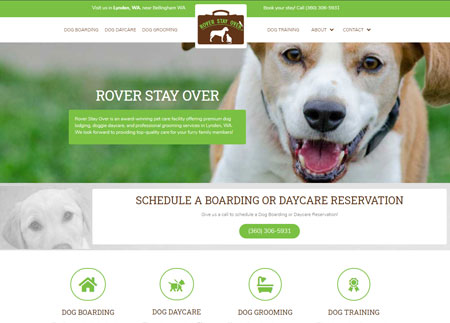 Collaborating with Pet Resort Industry Marketing Specialists
"We were in our own little bubble, in our own little area, doing our own little thing," Scheffer said. Since business was steady, she hadn't considered the need to expand or optimize Rover Stay Over's marketing plans. But after meeting Nehmedia, Scheffer said she had "tons of ideas" and realized she needed to make some changes. Her PR specialist simply did not have the same depth of pet resort-specific experience that she found with Nehmedia. " And that's amazing knowledge for us," she says.
Scheffer hired the Pet Resort Marketing team from Nehmedia to redesign the Rover Stay Over website, set up call tracking, and optimize Rover Stay Over's overall online visibility and presence. "We sign up with Nehmedia, and suddenly we have knowledge from 40, 60, and more pet resorts all over the United States," she says." Nehmedia has so much experience in all different situations: what works on a website, what works for Facebook, how to hit all the numbers, use the numbers, read the numbers. It's just so much valuable information, and we love that," Scheffer said.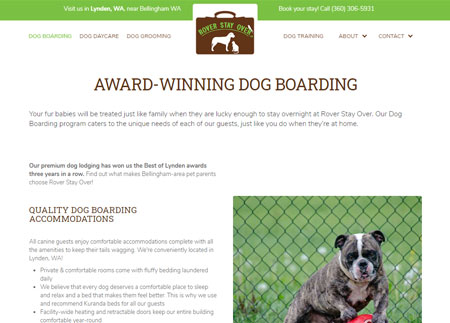 It didn't take long for Nehmedia to discover that Rover Stay Over was missing out on a big population of potential customers in nearby Bellingham, WA. Nehmedia recommended that Scheffer extend her advertising into the Bellingham area, and as Scheffer describes it, "everything just blew up bigger… our phone was ringing off the hook… [we were] getting our name out there and more calls came in."
Results that Generate Growth and Expansion
During that first year of partnering with Pet Resort Marketing at Nehmedia, Rover Stay Over saw a 20% increase in business, a significant jump from the 15-16% Year-over-year growth they'd come to expect. "Nehmedia just knows how to optimize 'all the everything' that's available to us!" Scheffer says. "They're more global, more aware of what's needed today… and they have the numbers and the knowledge."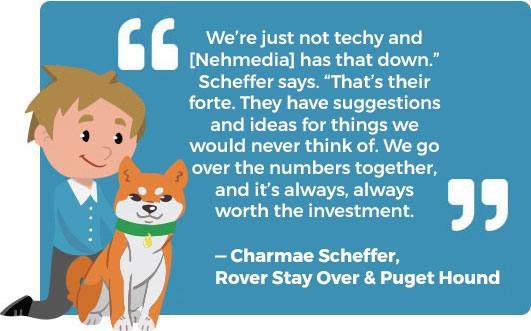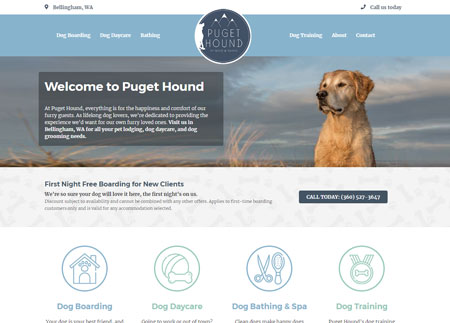 After Nehmedia helped Scheffer realize the business potential in Bellingham, she and her husband decided to acquire a pet care facility there. Her first step was to call Nehmedia. With three weeks until Puget Hound's grand re-opening, Nehmedia got to work, building a new website, redoing the former Facebook page, and building upon the customer list provided by the previous owner. Just one year later, Scheffer says they are "going gangbusters."
Now, both of Scheffer's pet resort businesses play off each other. Puget Hound, which is strategically located in a modern space by the airport, books more daycare and less boarding. Rover Stay Over, which is situated on an idyllic expanse of five acres surrounded by dairy farms and pastureland, entices more boarding customers. With Nehmedia's coaching, Scheffer has learned to cross-market between the two areas where their two businesses are located for even more business success.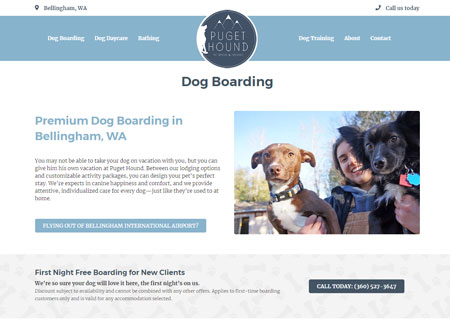 A Trusted Partnership That's Worth the Investment
By partnering with Nehmedia, Scheffer and her team can focus on what they do best—creating a family-like experience, giving love and special care to each dog that enters their pet resorts. "We're just not techy and [Nehmedia] has that down." Scheffer says. "That's their forte. They have suggestions and ideas for things we would never think of. We go over the numbers together, and it's always, always worth the investment. I appreciate the knowledge and the years that Nehmedia has been doing this – [it] works in my favor. The Pet Resort Marketing team at Nehmedia has done a great job for us."