How a Pet Resort Became Profitable in Just Six Months
Despite growing up on a farm and loving animals, Mike Sullivan never expected to own a successful pet resort in Dallas, Texas. But after a career in corporate sales and then becoming self-employed with multiple businesses, he decided to open a pet store that also offered a pet grooming service. Over time, as the retail side of his business was unable to compete successfully with Amazon, and his pet grooming patrons were increasingly requesting pet boarding services, Sullivan decided to close the pet store and open a pet resort. "I wanted to create the Ritz Carlton of the pet boarding industry," he said. And indeed he did.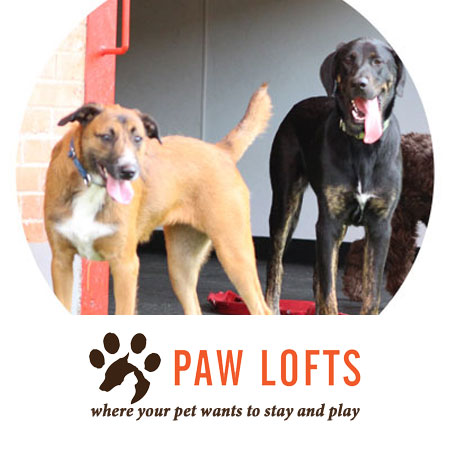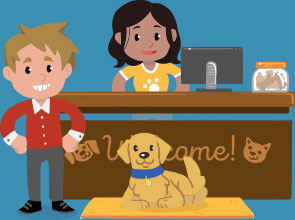 I didn't think I needed digital marketing, but in retrospect, I realize that I didn't understand digital marketing.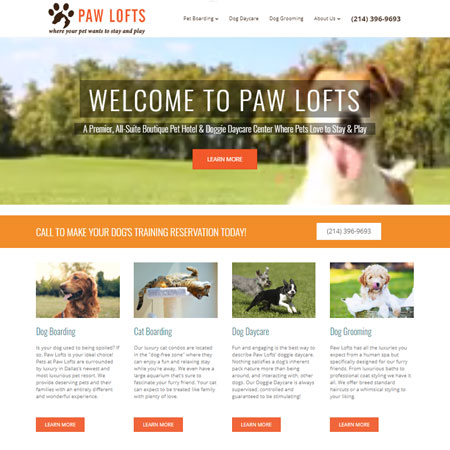 Choosing the Right Marketing Partner is Critical
Like many pet resort owners, shortly after opening Paw Lofts Pet Resort, Sullivan realized that just having a very nice, large facility that offers pet boarding, daycare, grooming, and training was not enough to succeed in the pet care service industry. He hired a couple of industry consultants as well as a local marketing firm to help build a website, publicize the resort, gain more visibility and exposure, and attract new customers. Although the industry consultants were helpful, the marketing firm was not, and Paw Lofts was facing at least 12 months before they could break even – much less turn a profit. According to Sullivan, "the PR company was good at selling products and branding, but they didn't realize that generating business for a pet resort is a very different proposition."
Sullivan turned again to his industry consultants for help. They advised him to partner with a digital marketing firm that specialized in the pet resort industry. He was very skeptical, at first, but he followed their advice. "I didn't think I needed digital marketing," he said, "but in retrospect, I realize that I didn't understand digital marketing." And so began his partnership with the Pet Resort Marketing team at Nehmedia, Inc.
Nehmedia understands the challenges of pet resort owners and managers as well as challenges facing pet parents. They provide specialized digital marketing solutions and services for 80 pet resorts and over 100 locations nationwide. "The team at Nehmedia instantly understood what we needed," said Sullivan. "They understood the right keywords pet parents search for when looking for the kinds of services we offer, and they knew what to ask about our business in order to target the right audiences with the right words." The switch to Nehmedia proved to be a turning point on Paw Lofts' road to success.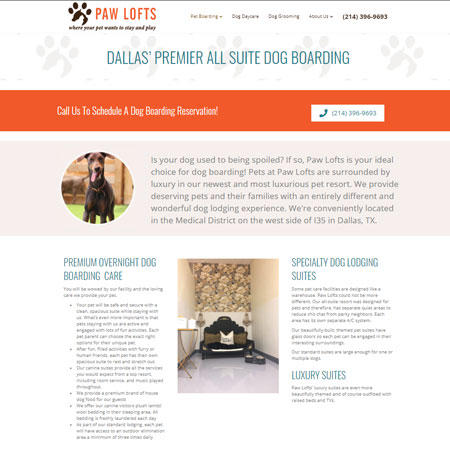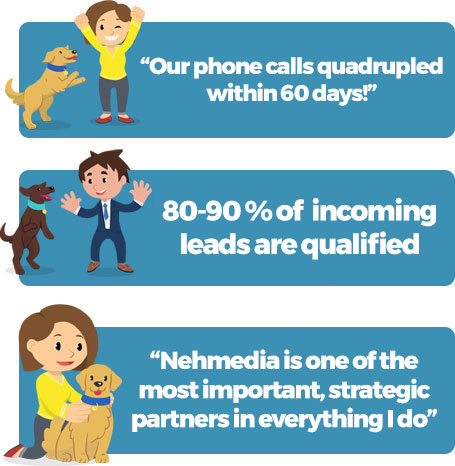 The Critical Success Factor: Digital Marketing Know-how with Pet Resort Industry Expertise
Within the first couple of months of collaborating with Nehmedia, Paw Lofts started seeing positive results. "Our phone calls quadrupled within 60 days," Sullivan said," helping us break even in just six months." Sullivan attributes this to their new high-performing website and SEO capabilities and claims 80-90 percent of their incoming leads are qualified. "The organic search brings more people through our doors than paid advertising," he said.
During their first year of business Paw Lofts averaged approximately 80 new clients per month. In the first six months of the following year they were averaging 100 new clients per month. Today they average around 200 new clients per month. Sullivan says the increased visibility has generated many more leads and redefined the business. "Our narrative has changed completely," he said, "from people calling to ask for a tour to people saying they've heard about us, they've found us online, they've read our reviews, and they're asking for availability and space instead of a tour."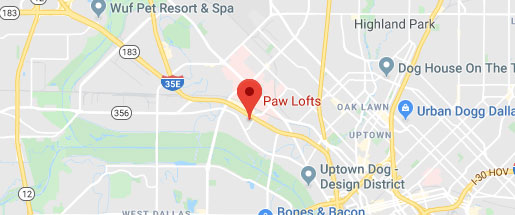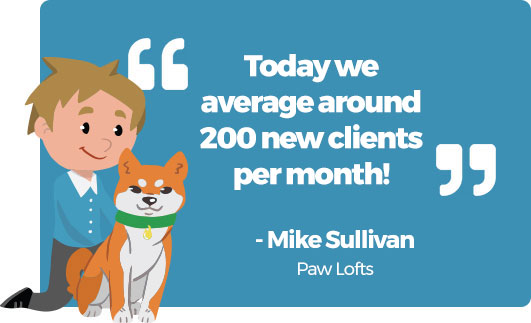 Bottom line, more leads means more customers, which means more revenue. This year Paw Lofts will realize a 210 percent growth in revenue, and Sullivan is now planning to open a second location in 2020. As for the impact Nehmedia has had on Paw Lofts, Sullivan said his investment in Nehmedia each month is a "fantastic value" and he asserts that Nehmedia is critical to his expansion plans. According to Sullivan, "Nehmedia is one of the most important, strategic partners in everything I do, helping me make money."